Coax Common Mode Chokes
Common Mode Current (CMC) carried on the outside of a coaxial cable braid from your antenna can cause unwanted RF in your radio shack and can radiate this unwanted RF into you and your neighbor's electronic devices. These currents can burn your fingers on the key or lips on your microphone and they can cause computers and other devices to fault or stop working when you transmit. To reduce CMC on the coax you can use Coax Common Mode Chokes. These chokes come in many varieties for various frequency ranges, mechanical attachment methods, choking impedance and cable size. Palomar Engineers offers five choices including Sleeve Chokes, Super Choker™, CUBE™ Chokes, MAXI-CHOKER™ Chokes in a range of choking impedences and shapes for small and large cable sizes and various antenna types.
Need help in choosing a common mode choke for your application? Read: Choosing a Feed Line Choke
Click on the links or pictures for more info on specific feed line chokes.

——————————————————–/——————————————————————-
Many customers have requested an assembled feedline choke/line isolator which can be used as a simple jumper attached to the antenna feed point or installed between pieces of electronic equipment to limit common mode current. The choke has PL-259 end connectors on each end and cable is RG-8X.
——————————————————–/——————————————————————-
Current Unun and Balun Enclosure – CUBE Baluns™ are ferrite toroid common mode chokes/1:1 baluns/ununs available in weatherproof enclosures with various input and output connectors. CUBE baluns give higher choking impedance than other choke types due to a larger number of turns .
——————————————————–/——————————————————————-
TUBE feed line chokes (coax line isolators) are convenient for insertion in the coax feed line at the antenna feed point or the station entrance and they include an optional ground lug and static bleeder for attachment to a ground rod. Very useful as coax line isolators along a long coax feed line to break up resonances every 1/2 wavelength. Very wide bandwidth, high choking resistance for 1-161 MHz use. Click on picture below or HERE for more info.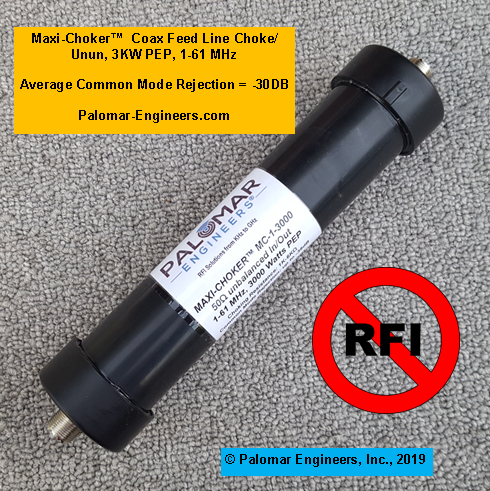 ——————————————————–/——————————————————————-
Got a question about using feed line chokes? Check out our Application Notes page for more info on RFI and using common mode chokes.
Still need Help? Drop us an email at Sales@Palomar-Engineers.com and we will be glad to answer your question.