CUBE Feed Line Choke Balun, 1.5KW, 1.8-61 MHz Eyebolt Version
CB-1-1500EB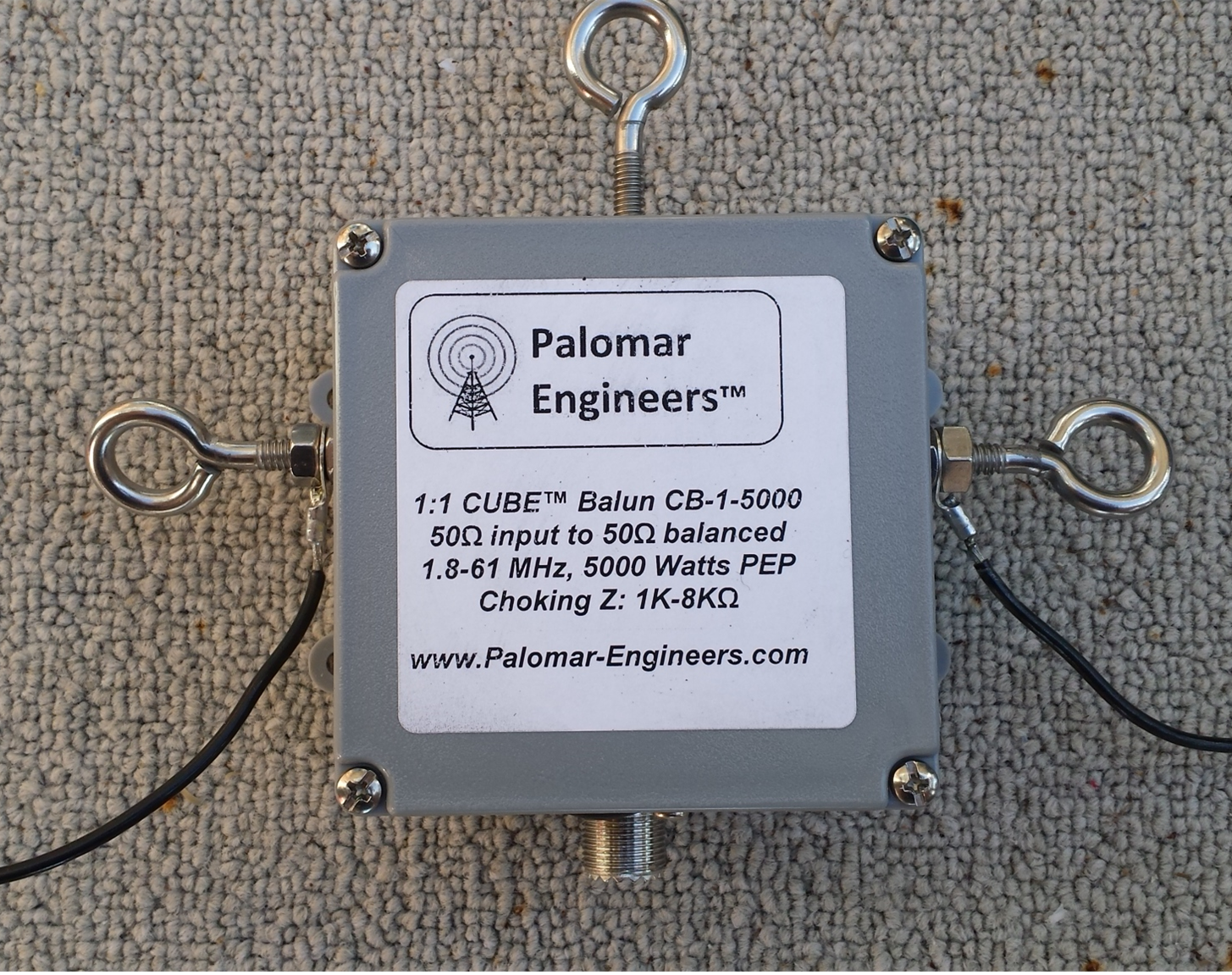 1500 Watt Rated 1:1 CUBE™ Balun

Th CU-1-1500 balun is useful as common mode feed line chokes or coax to antenna interfaces. SO-239 output models can also be used with balanced antennas if a short coax cable "pigtail" is used on the output and connected to the antenna. Rated 1500 Watts PEP from 1-61 MHz.
Use as line isolator, antenna interface, or as a common mode choke to keep RF on the antenna and off the outside of the coax braid. Much more effective then our sleeve feed line chokes due to multi-turn toroidal topology using high permeability ferrite cores which provides a higher choking impedance over a broad frequency range. Typical choking impedance of 1.5K-4K from 1-31 MHz reduces common mode current! For most effective results, use 1 choke at the antenna and another at the radio. Helps reduce noise floor too by choking off common mode neighborhood noise picked up on outside of coax braid.
In the picture gallery is a AIM 4170 Network Analyzer plot of the CB-1-1500/CU-1-1500 with a 50 Ohm load. Notice 50 ohm impedance transformation seen at input and nice flat SWR from 1.8-30 MHz (similar up to 61 MHz). Picture shows 5KW model which is same as 1.5KW model but additional power. This listing is for the 1.5KW model.
Effective Frequency Range (MHz)::1-61 MHz
PEP Power Rating (watts):1500
Estimated Insertion Loss (db)::.10
Input Connector Type::SO-239 female
Output Connector Connector Type::2 top studs or side eyebolts and halyard hoist
Ground Connector (Y/N)::none
Enclosure Size (LxWxH inches)::4 x 4 x 2
Output Connector Selection
2 top studs/wingnuts (0) 3 eyebolts - 2 side, 1 top halyard hoist (5)