Slip On Coax Feed Line Choke - 1"/25.4mm cable, 1.8-300 MHz
BA-200-5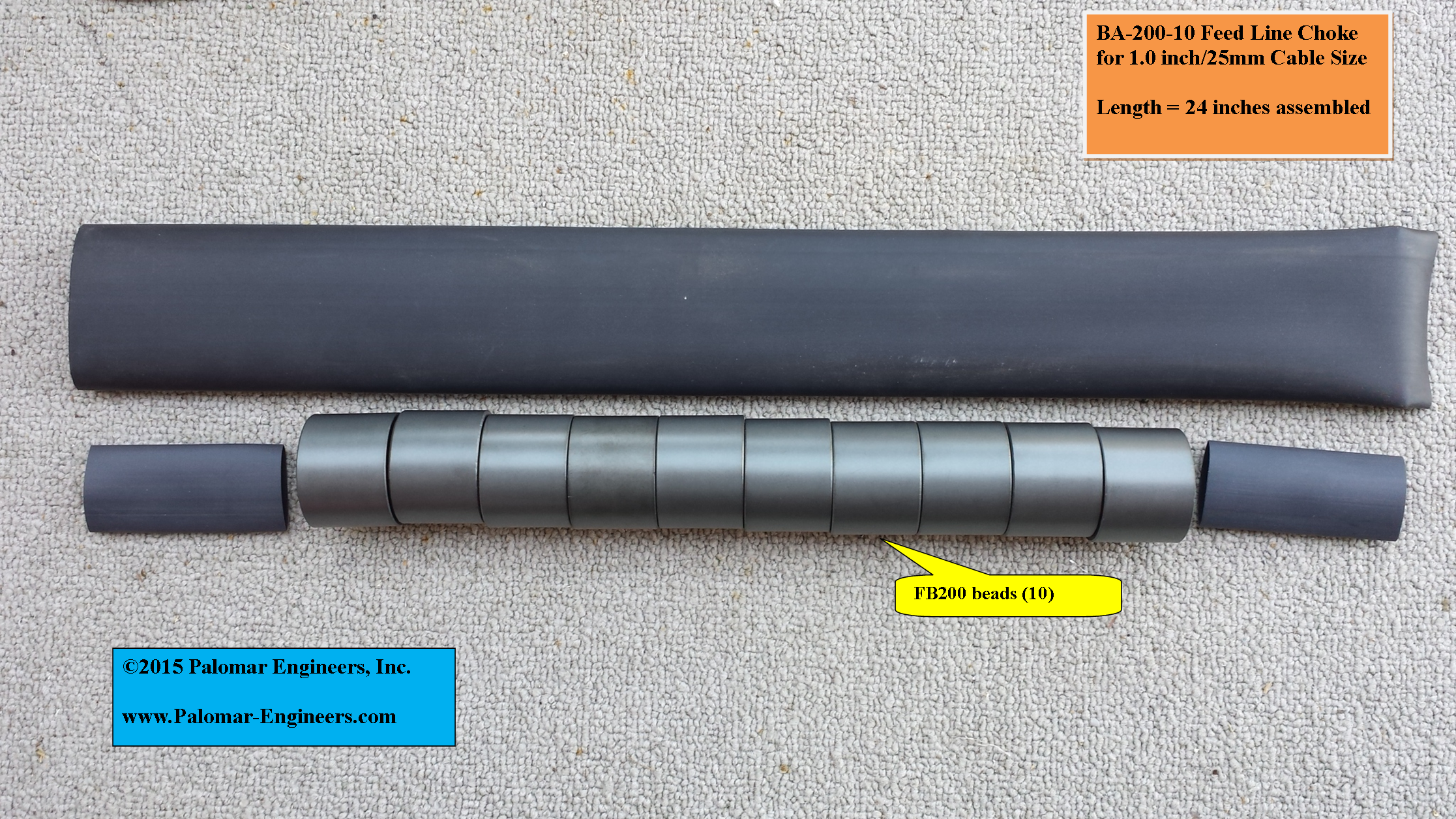 1″/25.4mm max Cable Size Chokes
Model BA-200. For use with RG-218 and similar size cables up to 1" OD without connectors installed. Works on all impedance cables, 1.8-300 MHz. Choke outside diameter is 2 inches Requires 9-1/2 inches of cable for 5 bead version, 17" of cable for 10 bead version, and 25" of cable for 15 bead version. Use BA-200-10 or BA-200S-15 for higher choking below 21 MHz. For 10-12 meter frequency use 5 beads up to 15 KW PEP, 10 beads for up to 30 KW PEP and 15 beads for up to 45 KW PEP. We use mix 31 for all chokes. Heat shrink weather proofing kit included. Picture shows 10 bead version.
Rule of thumb suggests you need minimum 5x-10x the coax line impedance for effective choking and the more the better as it will reduce common mode current with higher choking impedance. Select chokes with minimum of 500 ohms at your frequency of interest for best results or upgrade to our CUBE(TM), TUBE(TM), Super Choker(TM) chokes up to 15,000 ohms choking.

Select 10 bead version for 160 meter use, 15 bead version for even higher choking power on lower frequencies. Power rating is same as coax cable used power rating.
Typical choking impedances (BA-58, BA-8, BA-200):

MPN:BA-200
Country/Region of Manufacture:USA
Effective Frequency Range (MHz):3-61 (5 bead), 1.8-61 (10, 15 bead)
PEP Power Rating (watts):same as coax cable rating
Choking Impedance Range (ohms):5 bead: 200-900, 10 bead: 400-1400, 15 bead: 600-1700
Common Mode Attenuation (db):5 bead: 9-20 db, 10 bead: 16-24 db, 15 bead: 17-25 db
Estimated Insertion Loss (db):.025
Input Connector Type:none
Output Connector Connector Type:none
Ground Connector (Y/N):none
Enclosure Size (LxWxH inches):none
Select # of beads
5 bead version - 3-300 MHz (0) 10 bead version 1.8-61 MHz (100) 15 bead version 1.8-61 MHz (200)