CUBE Feed Line Choke Unun/Balun, 1:1, 1.5KW PEP,11-61 Mhz, HF Beams, CB
CU-1-1500CB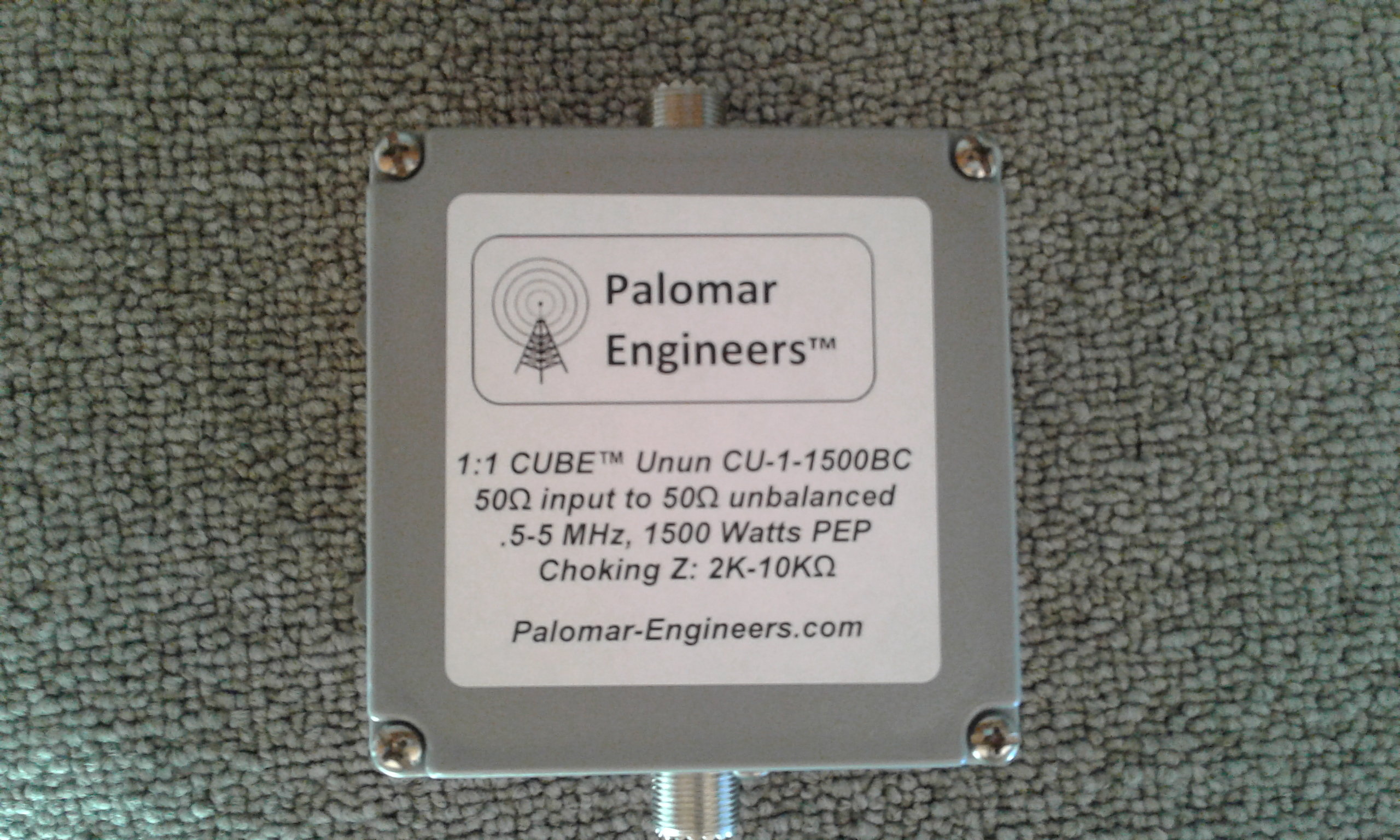 1500 Watt Rated 1:1 CUBE™ Unun/Balun - 11-61 MHz

The CU-1-1500 is used as a 1:1 unun(aka feed line choke, line isolator) for 50 ohm unbalanced coax cable input to 50 ohm unbalanced coax output at full amateur radio legal power (1500-watts PEP) into a matched load 50 ohm load. The unun is designed to have a high RF impedance to common mode currents on the outside of the coax braid while passing RF currents on the inside of the coax braid to the antenna.

The CU-1-1500CB has been optimized for the 11-61 MHz range. Works well with amateur radio tri-band beam antennas and very good for 11 meter operation as well.

For most effective results, use 1 choke at the antenna and another at the radio end of the coax. Helps reduce noise floor too by choking off common mode neighborhood noise picked up on outside of coax braid.
MPN:CU-1-1500CB
Effective Frequency Range (MHz):11-61 MHz
PEP Power Rating (watts):1500
Estimated Insertion Loss (db):.10
Input Connector Type:SO-239 female
Output Connector Connector Type:2 top studs or side eyebolts and halyard hoist or SO-239
Ground Connector (Y/N):none
Enclosure Size (LxWxH inches):4 x 4 x 2
Output Connector Selection
2 top studs/wingnuts (0) 3 eyebolts - 2 side, 1 top halyard hoist (5) SO-239 Output (0)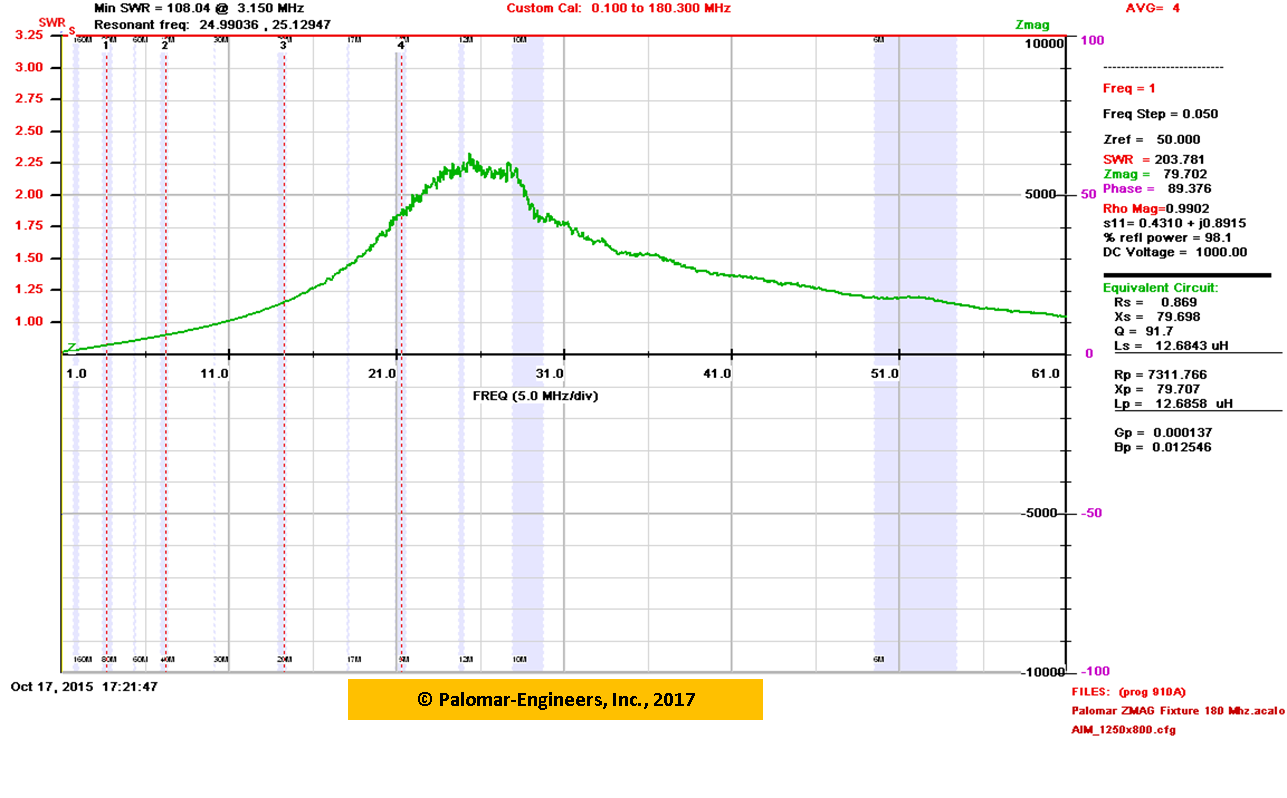 Application Note: For coax lines with receive and transmit signals, we suggest the CMNF-1 or CMNF-2 with SO-239 connectors in and out which are connected in series with the coax feed line to the receiver/transceiver effectively reducing common mode noise existing on the coax. For best results, and to reduce co-interference between choked and unchoked feed lines with multiple antennas, ALL antenna feed lines entering the radio room need to have a feed line choke particularly if they all feed a common coax switch. Choking only 1 line if you have 5 antenna coax feeds will do little good – you need to choke all five – use the feed line chokes for the individual feed lines and the CMNF between the antenna coax switch and the receiver. All CMNF models are SO-239 input and output. Adapters are available for converting to "F", or "N" connectors.
The CMNF-1 is meant to be placed in the coax line entering the transceiver or receiver (between the transceiver and amplifier or antenna tuner/coax switch if used). The CMNF-1 has a high choking impedance from 1-60 MHz with higher choking on the lower frequencies where noise is usually a larger problem then on higher frequencies. Convenient SO-239 input and output connectors all easy insert in series in your coax feed line. Use a short jumper from the CMNF-1 to your radio and plug the feed line into the other SO-239 CMNF-1 input. Either connector can be input or output. Rated at 500 watts PEP – if you have a higher powered transceiver, consider the CMNF-2 or CMNF-3. Note that the CMNF's work best closest to the receiver.
Installation Note: Putting a CMNF at the output of your antenna tuner lessens the choking effectiveness since the impedance may be much higher or lower than the 50 ohm design impedance of the noise filter. The best place to install the CMNF is between the antenna tuner/linear (high power CMNF-2 or CMNF-3) or closest to the receiver/transceiver (CMNF-1). See diagram below. Use sleeve or CUBE™ feed line chokes at the antenna feed point and radio end of the coax to reduce RFI and common mode noise.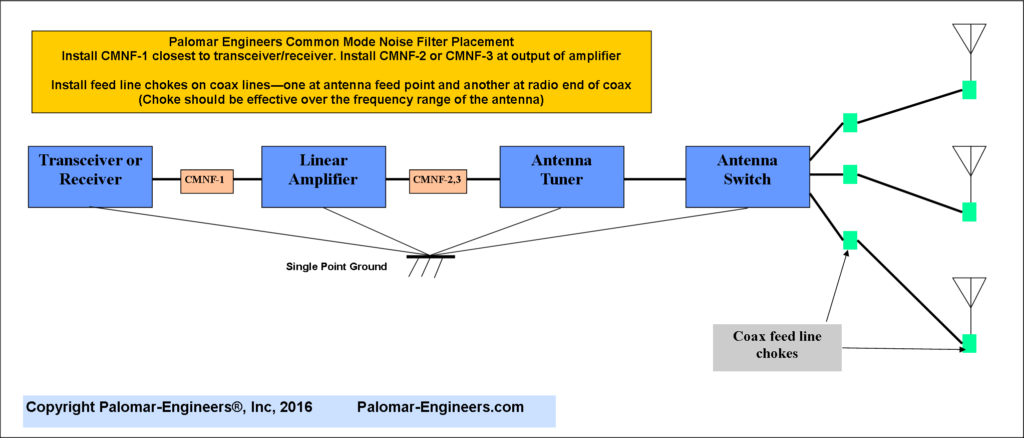 Typical user comment:
The filter was quite effective. Was surprised that it actually reduced the noise level
more than the signal so S+N/N improved by 1.9 S units.

Bill