Deluxe Broadband Bias-T - Inject/Extract DC on Coax System, 3 Amp, 1-180 MHz
BBB-T-Deluxe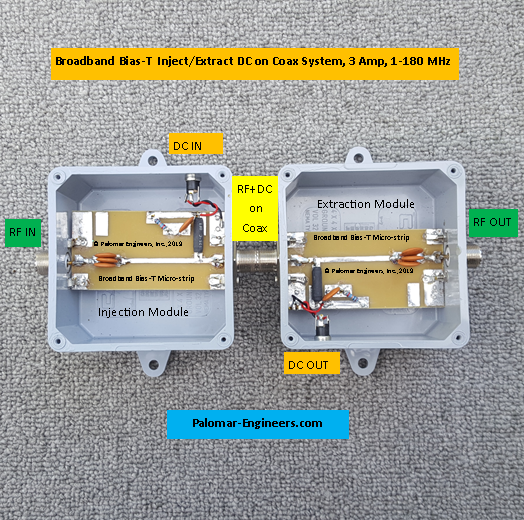 Now you can use your coax cable feed line to carry DC voltage to power remote devices such as antenna tuners, switches, and preamps. This product listing includes one DC injection module usually installed near the radio operator position and one DC extraction module at a remote location along the coax feed line. You can install additional remote extraction units as long as the total amperage draw does not exceed the maximum of 3 amps.
A unique Micro-strip circuit board design shows excellent broadband SWR < 1:1.5 from 1-180 MHz ensuring smooth operation and negligible insertion loss. These units totally eliminate the requirement for separate DC wires to power remote devices. The weather proof Broadband Bias-T can be placed indoors or outdoors for maximum flexibility.
This product will be available in June 2019

Frequency Range (MHz):1-180 MHz
SWR over Range:< 1.5:1
RF Power Handling (watts):2000
DC Voltage limit (Volts):60
DC Current Capacity (amps):3
DC Interface Size:2.1mm x 5MM jack (Plug included)
RF Connector:SO-239 UHF/"N" connector optional
Enclosure Size:4" x 4" x 2"