50:450 ohm (9:1) Balun or Unun Core Kit, .5-32 MHz, 1000 watts PEP, end fed/Ladder Line, T2FD antenna
BA-9-1000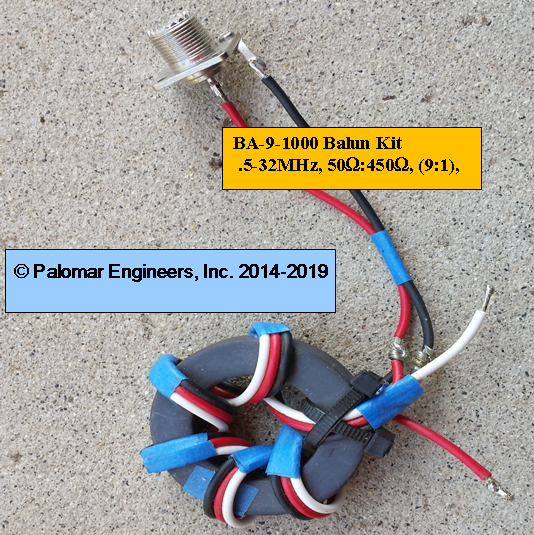 Purpose. Model BA-9-1000 is a 9:1 balun/unun kit used to translate a 50 ohm input up to 450 ohms at RF power levels up to 1000 watts when used with a matched load. It provides conversion from unbalanced coax to balanced ladder line/antenna feed point and gives a 9:1 impedance step-up to reduce SWR on the coax. Place at the junction of the balanced line and the coax to convert from balanced line to unbalanced coax.It can also be wired as an UNUN with unbalanced coax input to unbalanced output such as an end fed antenna.
KIT Contents. The kit consists of a ferrite toroidal core, three colors of insulated wire, a SO-239 UHF connector with stainless steel hardware, and an instruction manual.
Assembly time: About 1 hour

MPN:BA-9-1000
Frequency Band(s):160-10 Meters
Type:balun or unun
Input ohms/Output ohms:50 in, 450 out
Frequency Range
PEP Power Rating (watts):1000 Watts PEP
Antenna Compatability:Unun: End fed, Balun: Ladder line
Palomar antenna products include feed line chokes, feed line to antenna matching transformers, static bleeders and other accessories. Click on the link to connect to the product you need.